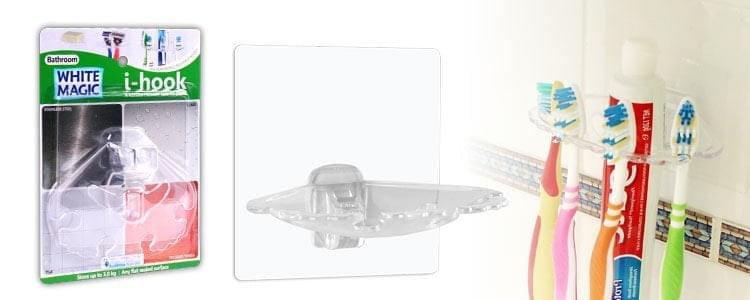 Every bathroom could do with some more storage space for everyday use items such as soap, toothpaste, toothbrushes or razors. With this i-hook you can store a combination of these with ease anywhere that is convenient, from inside the shower to the vanity mirror.
How to use
1. Clean and dry surface.
2. Remove plastic film from back of i-hook.
3. Press firmly onto surface, pressing out as many air bubbles as possible.
4. For maximum strength wait 24hrs before using.
5. When removing, peel from one corner.
6. If dirty, wash under cold water, using only your hands to wipe away dirt.
7. Do not use any cleaning agents, cloths or scourers to wipe the adhesive layer.
Where to use
– Tiles
– Glass
– Steel / Aluminium
– Melamine
– Plastic
– Polished Timber
Video