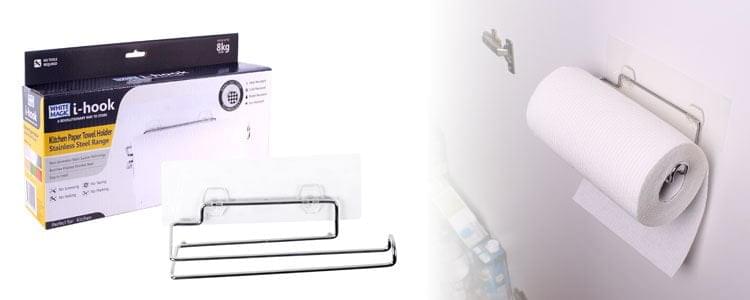 The perfect storage soluton for the Kitchen Paper Towel
High Gloss Stainless Steel prevents rust
i-hook holds firmly to any sealed, flat surface: Melamine, Plastic, Steel, Glass, Enamel Paint
Heat, Water, Sun and Cold Resistant
How to use
1. Clean and dry surface.
2. Remove plastic film from back of i-hook.
3. Press firmly onto surface, pressing out as many air bubbles as possible.
4. For maximum strength wait 24hrs before using.
5. When removing, peel from one corner.
6. If dirty, wash under cold water, using only your hands to wipe away dirt.
7. Do not use any cleaning agents, cloths or scourers to wipe the adhesive layer.
Where to use
– Tiles
– Glass
– Steel / Aluminium
– Melamine
– Plastic
– Polished Timber
Video