Cleaning Never Felt So Good
Introducing the Duo Spin Mop Cleaning system. It is the ONLY spin mop in the world that has both hand and foot press capability. You can now clean your floors without streaks in a matter of seconds.
Ready for something to make your cleaning experience better?
Effortlessly spin your mop dry & clean
The patented spinning mechanism expels water at 2600 revolutions per minute to effortlessly dry the mop with a few presses of your hand/foot. The spinning device works like a vacuum cleaner to remove dirt and water from the mop so there is no need to get your hands dirty or physically exert yourself with bending, pulling or wringing.
The Super Absorbent Mop Head is made with 8000 strands of polyester microfibres that act like little shovels to pick up dirt from the floor with only water. The polyester microfibre is also 4 times more absorbent than cotton so they can absorb a big mess fast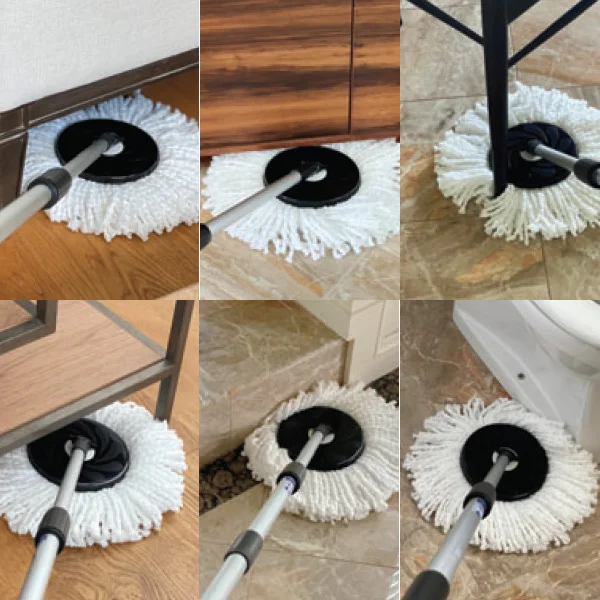 The mop handle allows you to clean around fixed furnishings or into any shape of corner with the 360o movement. Combine this with the handle pivoting at 180 degrees you can now clean under areas as low as 6 cm, such as couches, coffee tables and TV cabinets
Machine washable mop heads
The Super Absorbent Mop Head is machine washable 100 times. That means with regular use they should last for at least 2 years. Simply place in a laundry bag, place in a warm water of a front loader washing machine with normal washing powder / liquid. You will have a brand new mop ready to clean again. 
People are loving this mop.
Spin Mop Duo, simply the best for floor cleaning. Our clients are always commenting how great the floors look after we have finished.
The spin mop duo is a great product, is our 2nd the bucket is strong and well made the foot pedal system is great, it gives me a second option to not aggravate my tennis elbow by using the hand press function all the time
Robust bucket and excellent mop. I have tried plenty of other floor washing options and this is the bests
Tile, Cork, Timber, Stone, Lino, Laminate. Whatever the surface is, the White Magic Spin Mop Duo get the job done.
Feel that mopping experience…Now