Description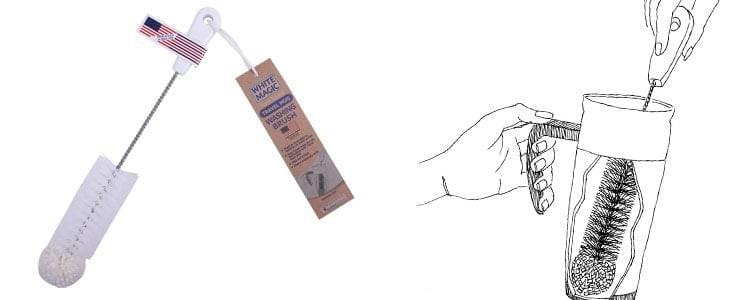 Introducing the Foam-Tipped Travel Mug Washing Brush, a must-have tool for cleaning your vacuum-sealed travel mugs effectively. Designed to clean various materials like ceramic, glass, stainless steel, and plastic, this brush ensures a thorough and efficient cleaning process. Most Vacuumed sealed travel mugs must be hand washed as they are not dishwasher safe. So cleaning them out thoroughly is important. Here are the key features and benefits:
Versatile cleaning: Whether your travel mug is made of ceramic, glass, stainless steel, or plastic, this brush is suitable for all materials. It provides a gentle yet effective cleaning action that removes stains, residue, and odors.
Hand wash convenience: Most vacuum-sealed travel mugs are not dishwasher safe, requiring manual hand washing. This brush is specifically designed for the task, making it easier and more efficient to clean your travel mugs thoroughly.
Long and flexible handle: The brush features a long and flexible handle that allows you to reach every corner of your travel mug. It ensures thorough cleaning of the sides, base, and hard-to-reach areas without any hassle.
Soft foam bristles: The foam-tipped bristles of the brush provide a gentle cleaning action that won't scratch or damage your travel mug. The soft bristles effectively remove dirt and residue, even in the base corners, ensuring a complete clean.
Compact and travel-friendly: The brush is compact in size, making it ideal for travel. It easily fits into your bag or luggage, allowing you to clean your travel mug wherever you go.
Easy to use and maintain: Simply wet the brush, apply some gentle dish soap or cleaner, and scrub the interior of your travel mug. After use, rinse the brush thoroughly and let it air dry for the next use.
Durable construction: The brush is made from high-quality materials that ensure durability and long-lasting performance. It is designed to withstand regular use and maintain its effectiveness over time.
Ensure your vacuum-sealed travel mugs are impeccably clean with the Foam-Tipped Travel Mug Washing Brush. Experience hassle-free cleaning and enjoy your favorite beverages without any residue or odor.
Size : 37cm
How to use
Wash in a sink of warm water with a little detergent
Insert the brush into the mug & rotate the brush pressing against the side & base
Rinse well with clean water to remove any detergent residue
When the brush gets dirty, rinse in warm water, or place in a dishwasher
Tip. If your travel mug has a straw, don't forget to clean that with out super long and flexible Straw Washing Brush.