Description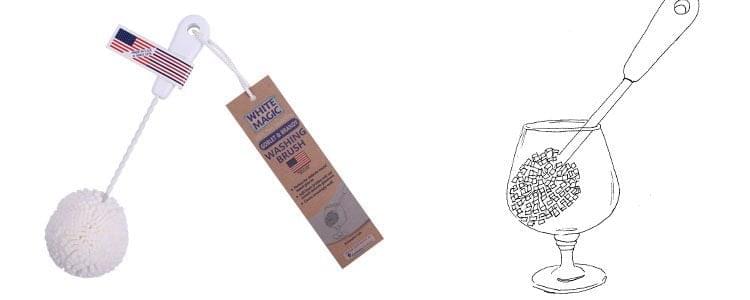 Introducing the Goblet & Brandy Washing Brush, the perfect tool for cleaning and maintaining your valuable goblet and brandy glasses. Crafted with care and precision, this brush is designed to provide effective and gentle cleaning without compromising the quality of your glassware. Here are the key features and benefits:
Hydrophobic foam: The brush is made from a special hydrophobic foam that is specifically designed to repel water. Unlike traditional brushes that can become limp or soggy when wet, this foam maintains its shape and effectiveness, ensuring optimal cleaning performance.
Scratch-free cleaning: The soft and gentle bristles of the brush are carefully crafted to provide thorough cleaning without scratching, chipping, or marring your precious goblet and brandy glasses. You can confidently use this brush to clean delicate glassware without any worry of damage.
Bacteria-resistant: The unique material of the brush resists the growth of bacteria, ensuring a hygienic cleaning experience. This helps to maintain the cleanliness and purity of your glasses, providing peace of mind for you and your guests.
Versatile compatibility: The Goblet & Brandy Washing Brush is designed to accommodate a variety of goblet and brandy glass shapes and sizes. Its flexible and ergonomic design allows for easy maneuvering and access to hard-to-reach areas.
Easy to clean: After use, simply rinse the brush under running water to remove any residue. The hydrophobic foam material prevents water absorption, allowing for quick and efficient drying. This ensures that the brush remains clean and ready for future use.
Experience the convenience and effectiveness of the Goblet & Brandy Washing Brush. Keep your goblet and brandy glasses in pristine condition, free from scratches and bacteria.
Size : 22cm
How to use
Wash in a sink of warm water with a little detergent
Insert the brush into the cup & rotate the brush pressing against the side & base
Rinse well with clean water to remove any detergent residue
When the brush gets dirty, rinse in warm water, or place in a dishwasher
TIP. When washing, never hold a Goblet or Brandy glass by the base, as the stem may snap.